"Odd Hours, No Pay, Cool Hat" takes viewers into the heart of the volunteer fire service, and by extension on a journey through the many facets of America. Locations like California's wine (and wildfire) country, a small Nebraska farming community, and an Orthodox Jewish enclave of New York set the backdrop for a series of stories about service, personal growth, and finding purpose. Together they convey the depth, diversity, and critical role volunteer fire departments play across the country.
Told through an unexpected cast of characters, the film challenges stereotypes and preconceptions at every turn. Barbara is a beloved grandma by day and a badass EMT by night. Madely, a Salvadoran immigrant, shows what teenagers are capable of when given the opportunity. For Jaime, the volunteer fire service saved his life, and he now wants to pass on his lessons and legacy to his sons and grandson.
At a fragile and fractured point in our history, this film offers hope and optimism, and reminds us that we are all in this together.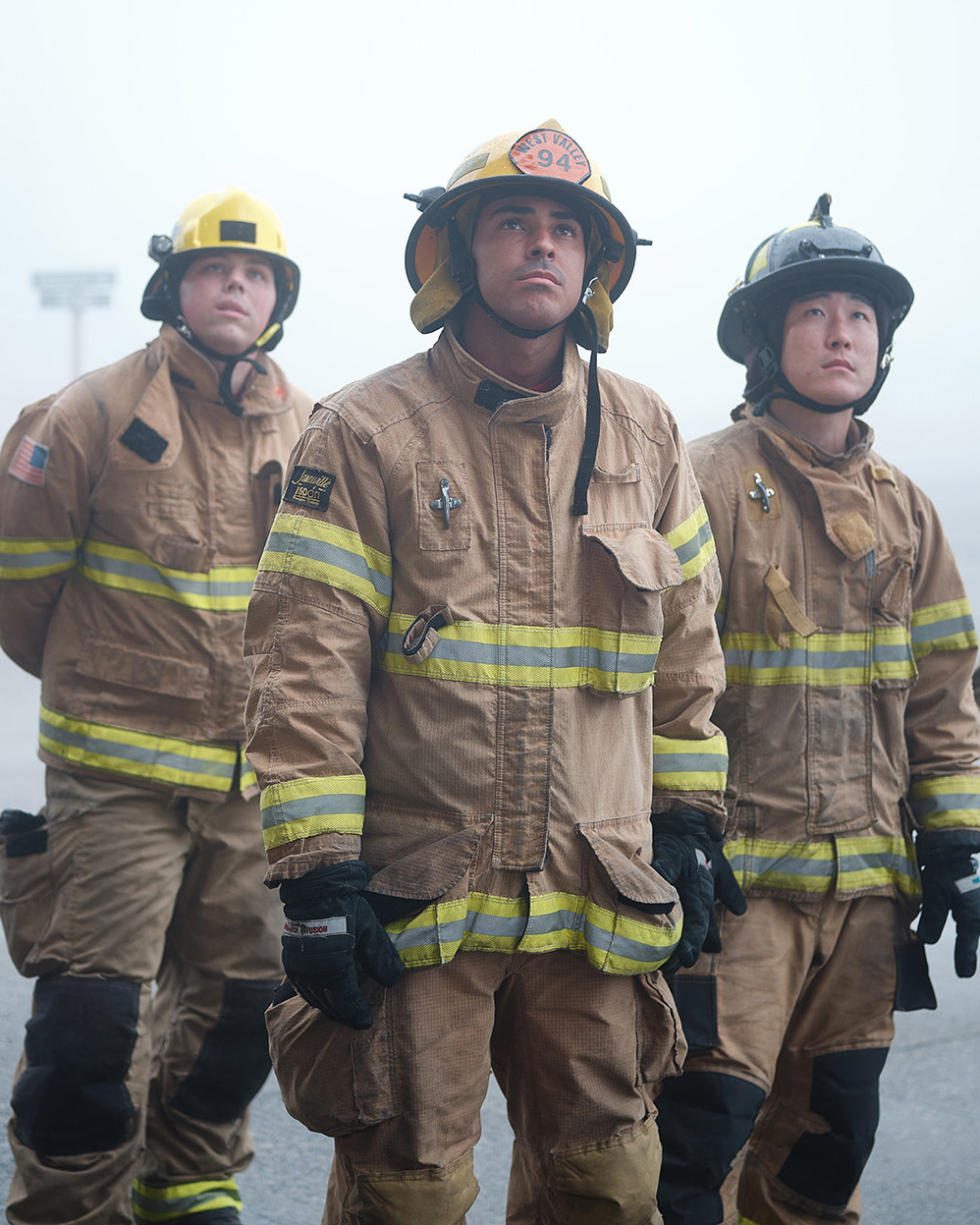 Peter Yoakum
Executive Producer
This film began as my personal quest, starting out as a cross-country search to find answers to the question "why would someone leave their job, their family, dinner table, and even their bed, to respond to their neighbor's emergency, sometimes putting themselves in harm's way, all for little or no pay?" But the project quickly grew into a much larger challenge: how to preserve and protect one of America's most critically necessary treasures, its first-responder volunteer corps. Odd Hours No Pay Cool Hat dives deeply into the lives and families of a small number of the 745,000 volunteer first responders spread across the country, serving at a few of the 24,000 fire departments located in both rural and urban communities. Most of these volunteers have full time jobs as mechanics, physicians, oilfield technicians, nurses, lawyers, and every other occupation one can imagine. And all are ready to help when their neighbors are having very bad days.
Gary Matoso
Director, DP, Producer
Born and raised in California, Gary Matoso began his career in a commercial photography studio in San Francisco. He later moved to Paris, France where he was based as a photojournalist for 16 years. His assignments took him across Europe, Africa, The Middle East, and the former Soviet republics. His photography has appeared in publications including: The New York Times, Time, Newsweek, People, Forbes, Fortune, Business Week, Smithsonian, Liberation, Le Monde, The Guardian, and The Sunday Times of London. In 2010 he founded Vignette, a Seattle-based creative agency and production company that focuses on telling meaningful stories through photography and film.
Cameron Zohoori
Director, Editor
Cameron Zohoori is a filmmaker from North Carolina by way of Jamaica, Arkansas, and Seattle. After studying neuroscience, he decided storytelling was a more compelling way to affect people's brains. Projects in diverse media have taken him from the hollows of Kentucky to the streets of Liberia, from cage diving with great white sharks to training rural radio producers. As a Lewis Hine Documentary Fellow he spent a year filming and photographing the lives of youth and youth workers in Lowell, Massachusetts. The resulting documentary "The Vow" played festivals around the country and internationally. Since 2015 Cameron has worked with Vignette in Seattle.
Louise Colette Matoso
Casting Director, Associate Producer
Louise Colette Matoso grew up in Paris, France and attended Concordia University focusing on sociology and film studies. She joined Vignette in 2018 and is a Senior Producer and Casting Director. She has a passion for people and an uncanny knack for finding meaningful stories that unfold on screen. As a producer she strives on building trusted relationships with cast and crew alike, and makes it a priority to ensure a safe, fun and equitable production environment for all.
Dillon Byron
Composer
Dillon Byron is a Seattle-based composer, film-music lover, passionate technologist and tinkerer. Growing up in the Pacific Northwest, he has had the opportunity to be immersed in musical creativity from a young age, and continues to draw inspiration from his surroundings. After being given the opportunity to underscore Vignette's inaugural short-film in 2010, Dillon has since continued to focus on crafting bespoke music for picture, designed to be in service of stories, and the humans at the center of them
Jenna Dunbar
As
Jenna Dunbar always wanted to be a firefighter but put her dream on hold while pursuing collegiate basketball at Sonoma State. After losing her home in the devastating 2017 Tubbs fire, her passion for the Fire Service was reignited. She quickly got involved in volunteering at Graton VFD and is on the road to becoming a career firefighter at CAL-FIRE. When Jenna isn't volunteering at her department, she works as an assistant basketball coach at Santa Rosa JC and is a ranch hand.
Alan & Shari Michl
As
Alan and Shari, married couple of 40+ years, have been longtime advocates and champions of Exeter, the small rural community they call home in Nebraska. Aside from serving on at their local department together, Alan is a farmer, school bus driver and mayor of Exeter, and Shari works as a nurse at the nearest hospital.
The Recruits
As
Eight new recruits from across Washington State are embarking on an intensive 12-weekend training course to earn their Firefighter 1 and Hazmat certifications. A diverse group from across WA state, they quickly form a bond as they support each other through rookie mistakes, physical exhaustion, and the adrenaline rush of walking into fire for the first time. When the recruits aren't in training they work in landscaping, special education, security, and ambulance driving.
Zach Fergusson-Williams
As
Zachary, a biotech technician, first joined the Wheaton Volunteer Rescue Squad as a way to determine whether a career in medicine, his dream since he was little, would be the right path for him to pursue. Through the experience of providing real life patient care at the department, he quickly gets his answer and finds himself sticking around for reasons he couldn't have anticipated.
Doug Monaco & Melissa Mainville
As
Chief Doug Monaco and Lieutenant Melissa Mainville are key members of Little Fork Volunteer Fire and Rescue, a specialized team that (in addition to regular emergency responses) handles animal emergencies in Northern Virginia's 'horse country'. Chief Doug is a retired Fire Captain and part time Adjunct Fire Instructor for Commonwealth of Virginia and Melissa is a Speech Language Pathologist RN.
Yitzy Grundwald
As
Yitzy Grunwald is a trailblazer and a dedicated member of the Monsey Volunteer Fire Department, serving as the first ultra-Orthodox volunteer firefighter in the department's history. Despite initial skepticism, his enthusiasm and hard work won over the hearts and minds of department members and public alike. When not at the station, Yitzy is an independent construction worker and family man.
Hernandez Family
As
Jaime and his two sons (JR & Jason) volunteer together at a small-town VFD in Beeville Texas. This is an incredibly tight knit family who are deeply rooted and dedicated to their community. As Jaime gets older, his sons are stepping up to fill his shoes and continue the generational legacy he began. This is an incredibly tight knit family who are deeply rooted and dedicated to their community. They believe in hard work, giving back to their community and setting an example for those around them. As Jaime gets older and moves to more admin work, his sons are taking on even more active roles in the fire service.
Lane Strate
As
After a short stint in the city, Lane realized that rural life is where he's meant to be, and returned to his home town in Exeter, Nebraska. Shortly after the move, he began work at the local farming co-op and jumped on the opportunity to become a volunteer firefighter when a spot opened up.
Madely Perez-Cruz
As
College student Madely, a Salvadoran immigrant who lives with her family in Wheaton, Maryland, shows us what teenagers are capable of when given the opportunity. Starting her first responder journey at a fresh 16, she has since become an invaluable member of the Wheaton Volunteer Squad.
Barbara Williams
As
Barbara Williams, a retired court reporter, world-class quilter and grandmother, stopped by her local volunteer department one day to introduce herself and offer up typing skills if needed. To her surprise, she left that day signed up for EMT class, encouraged by Chief Monaco, and the rest is history!